You think you've eaten a tasty mustard green until Heidi Cook passes you a sprig of one harvested at Reckon Acres: an apropos name for the 42-acre Charles City working farm she owns with husband Chris that signifies a "reckoning" in agriculture toward sustainable growing.
Bagged salad mixes from a grocery chain can't compete with the freshness of the leafy greens the farm's small team nurtures long before the first buds sprout. When they're mature, they go straight to Williamsburg's Amber Ox Public House, where they're tossed into a salad, side, or something else deliciously prepared at the brewpub near Merchants Square.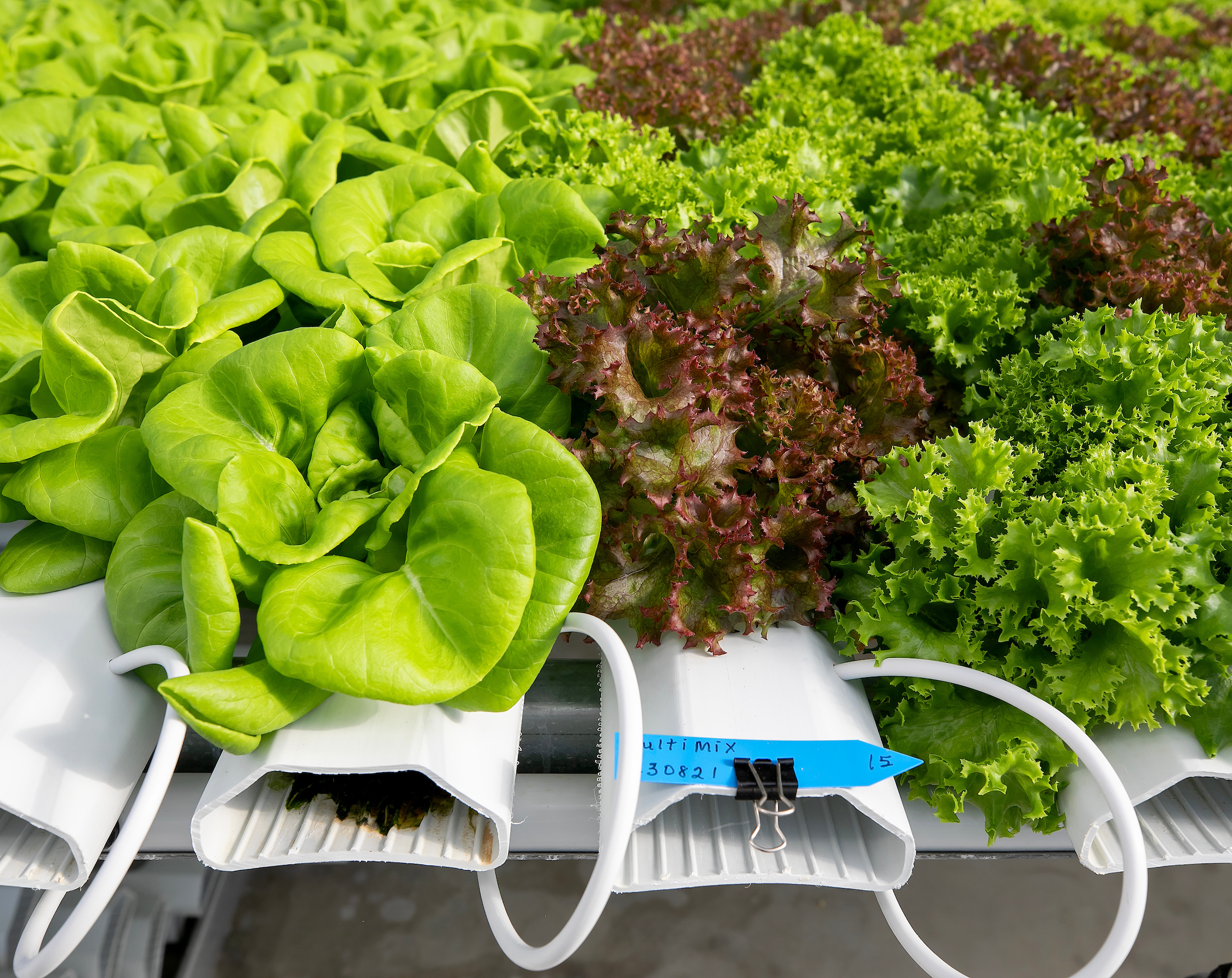 When Amber Ox Chef David McClure needs eggs, he uses those laid by the 180-plus chickens at Reckon Acres. The restaurant's pork products are crafted from the farm's pigs that live among two shaded acres instead of in cramped cages. Every so often, Cook will toss them fresh vegetables or leafy greens, including leftover Miz America Mizuna, its pronounced mustard flavor so delicious, you'll skimp on the dressing.
Chris Cook and business partner Andrew Voss are committed to authentic farm-to-table dining. For example, if tomatoes are not in season, they're not on the menu at the Amber Ox. The pair are owners of the modern hospitality company Against the Grain Restaurants, which includes Amber Ox and its neighbor, Precarious Beer Project. Reckon Acres and other local farms supply many of the ingredients, sharing the belief that food grown on healthy land using healthy farming techniques means healthy food.
It's also aesthetically pleasing, delightfully fragrant and wonderful to eat.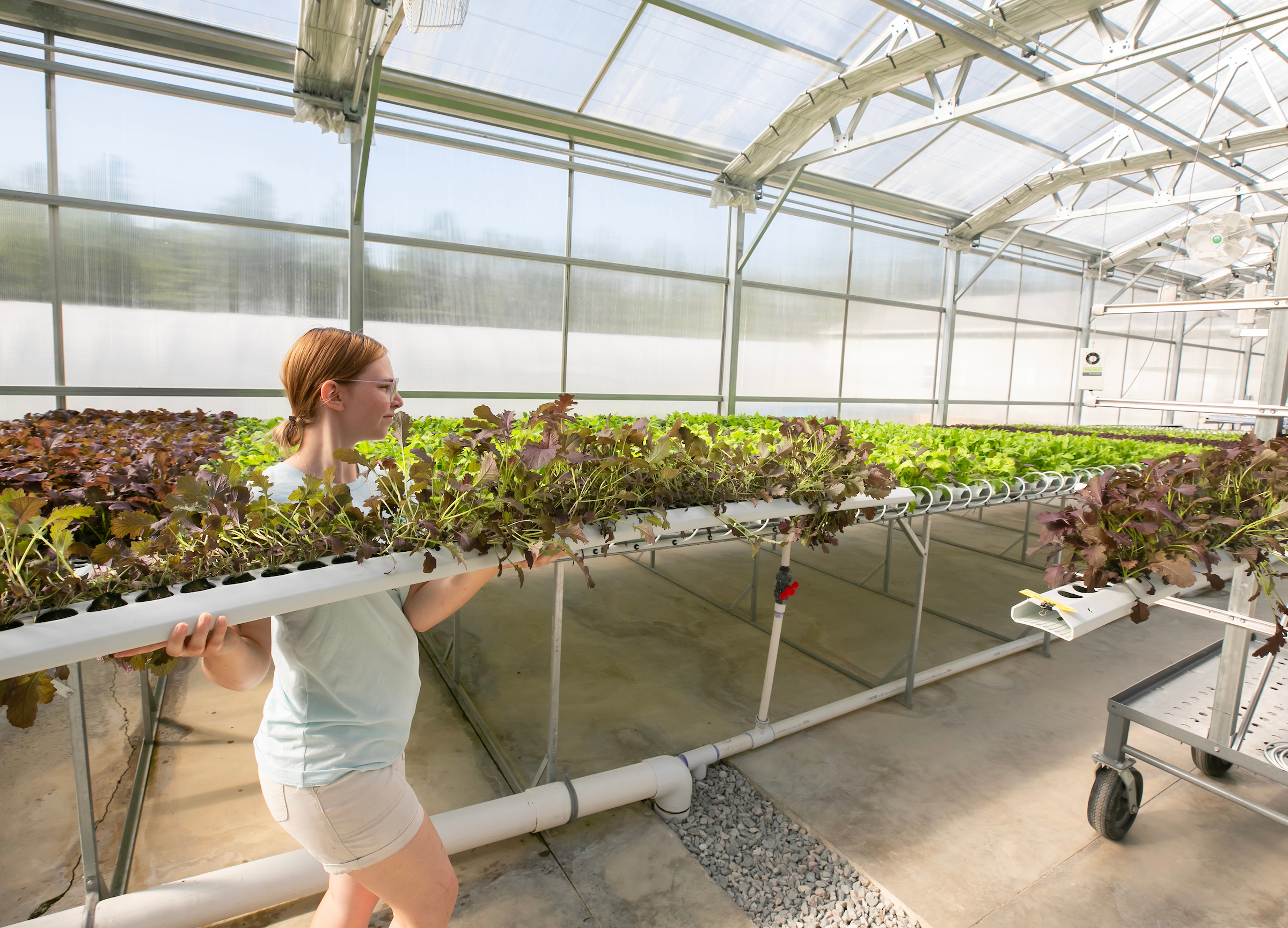 "Andrew and I are both very passionate about what we are doing," Cook said. "A lot of restaurants in the region claim to be farm-to-table, but few places live up to that billing. That's the inspiration behind Reckon Aces."
Cook grew up on a 900-acre, 400-cow dairy farm in Pewamo, Michigan, a rural community 35 miles northwest of Lansing. He and his wife, Heidi, moved to Virginia 11 years ago and after a decade here, purchased the farm in Charles County and began reimagining food with hydroponic growing.
At Amber Ox, as many ingredients as possible are sourced locally or within a few hundred miles of Williamsburg. Reckon Acres contains a nearly 5,000-square-foot greenhouse with all the bells and whistles, including temperature control for all seasons. The arugula, cress, butter lettuce and a handful of other leafy greens (including those tasty mustard leaves!) benefit from nutrients passed to them through a water pump, a system that uses 95% less water than soil farming.
Traffic is limited in the greenhouse to keep everything as clean as possible and to reduce insects. A visit to the livestock area means not returning to the greenhouse until after a shower.
"Having the ability to grow in a controlled environment gives us an advantage," Cook says. "Nobody locally is producing leafy greens and lettuces in the summertime because it's too hot. If you go most places and get a salad, chances are the lettuce came from clear across the country. We have the ability to produce the lettuces right in our greenhouse."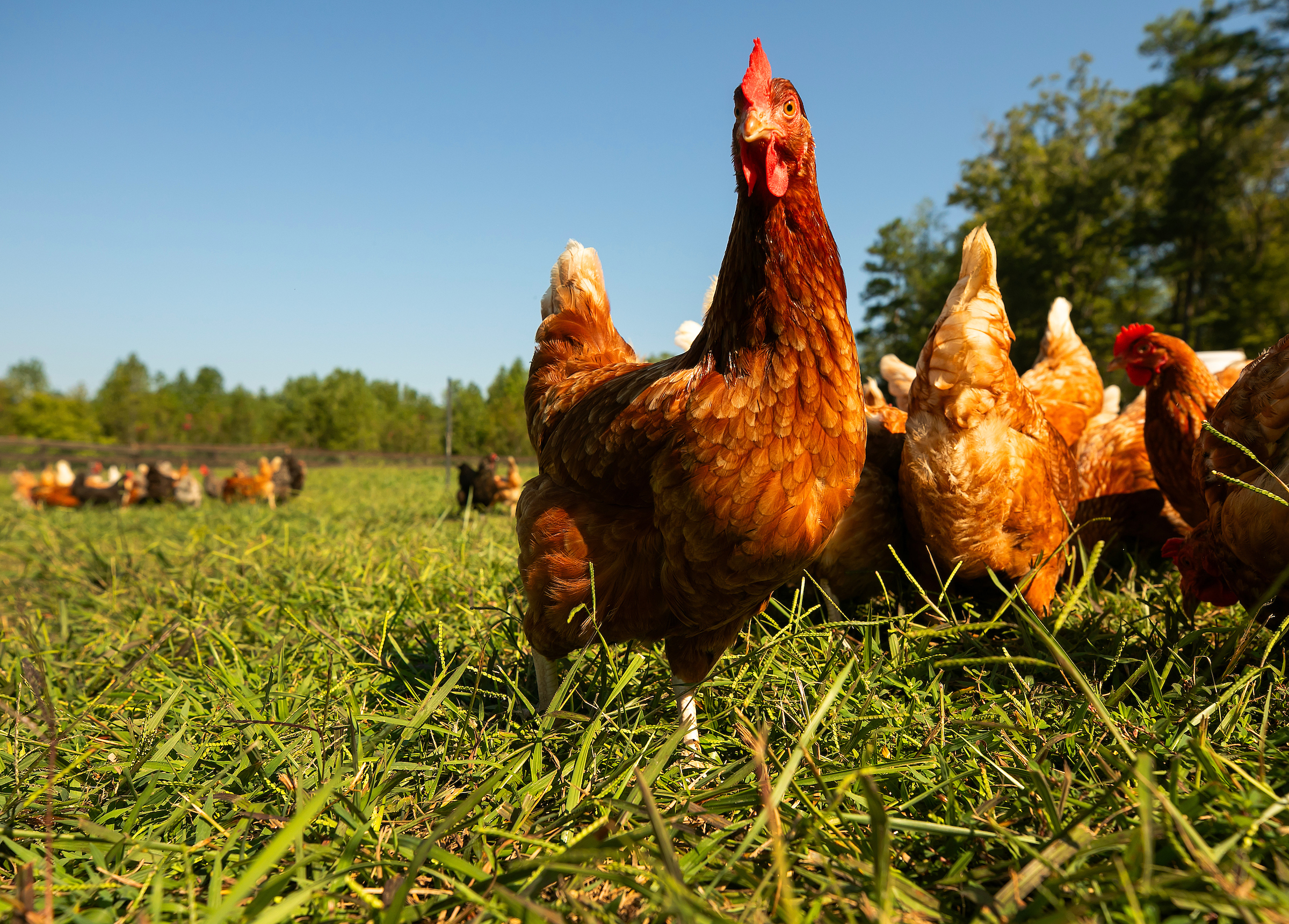 The livestock are rotationally grazed and will soon enjoy a larger living space, a 20-acre pasture k recently fenced on the wooded property. Basil, an 8-month Great Pyrenees mix puppy, is guardian of the farm, a protector to the chickens, given the hawks, eagles and occasional coyotes on the hunt.
Typically, the farm is not open to the public, but on Oct. 11, Reckon Acres will host a fundraiser on behalf of Habitat for Humanity Peninsula and Greater Williamsburg. McClure and the culinary crew from the Amber Ox will prepare a four-course feast inspired by the primitive South American asado tradition, known for its open fire cookery of whole animals.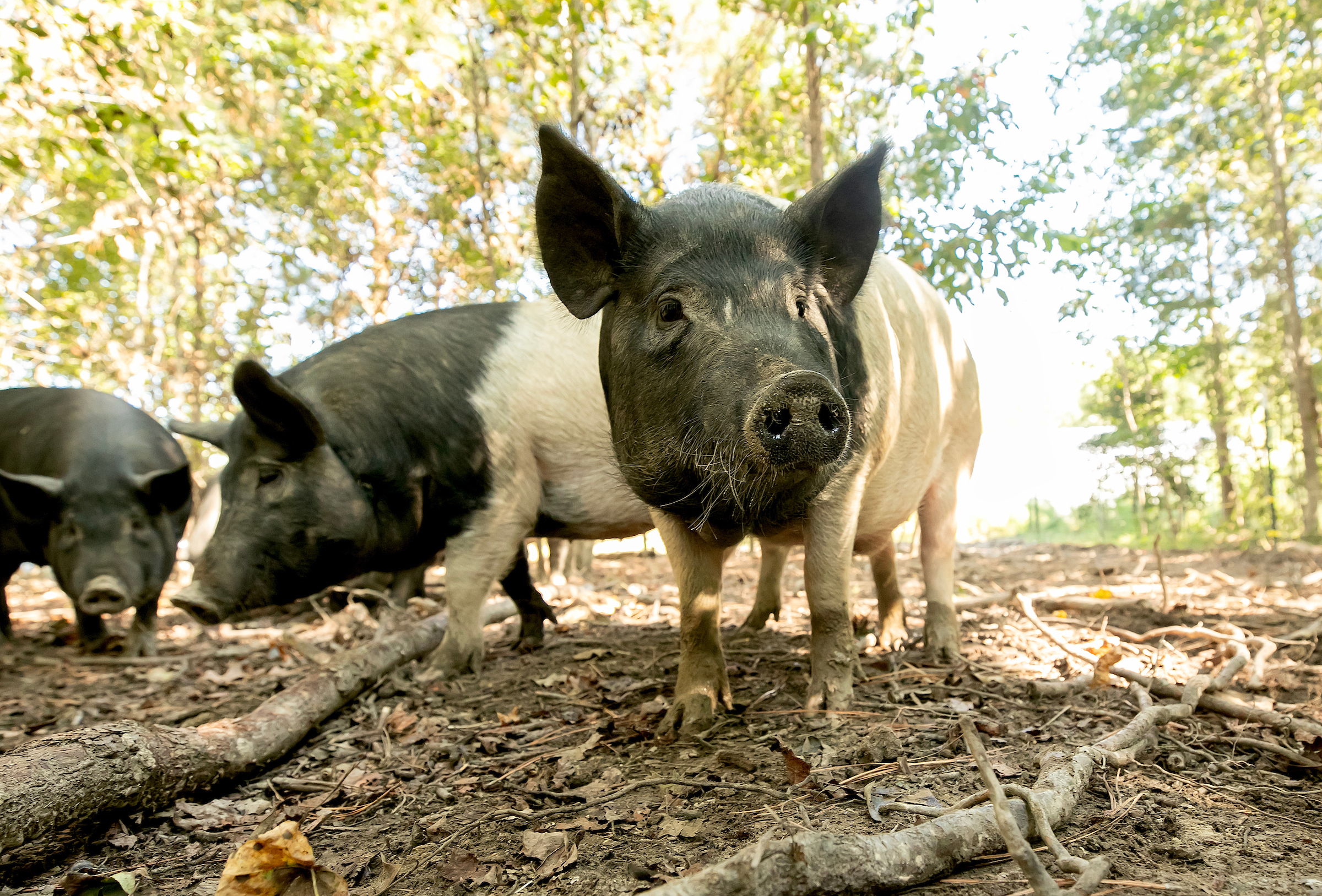 Dinner will showcase the best of Amber Ox, with fresh vegetables harvested from the farm cooked directly on the embers on the fire, whole King salmon smoked over several hours, and entire pigs raised at Reckon Aces for Peril Aji Amarillo Pork Jus. Hazelnut-mint gremolata will bring out the flavors of lamb cooked rotisserie style.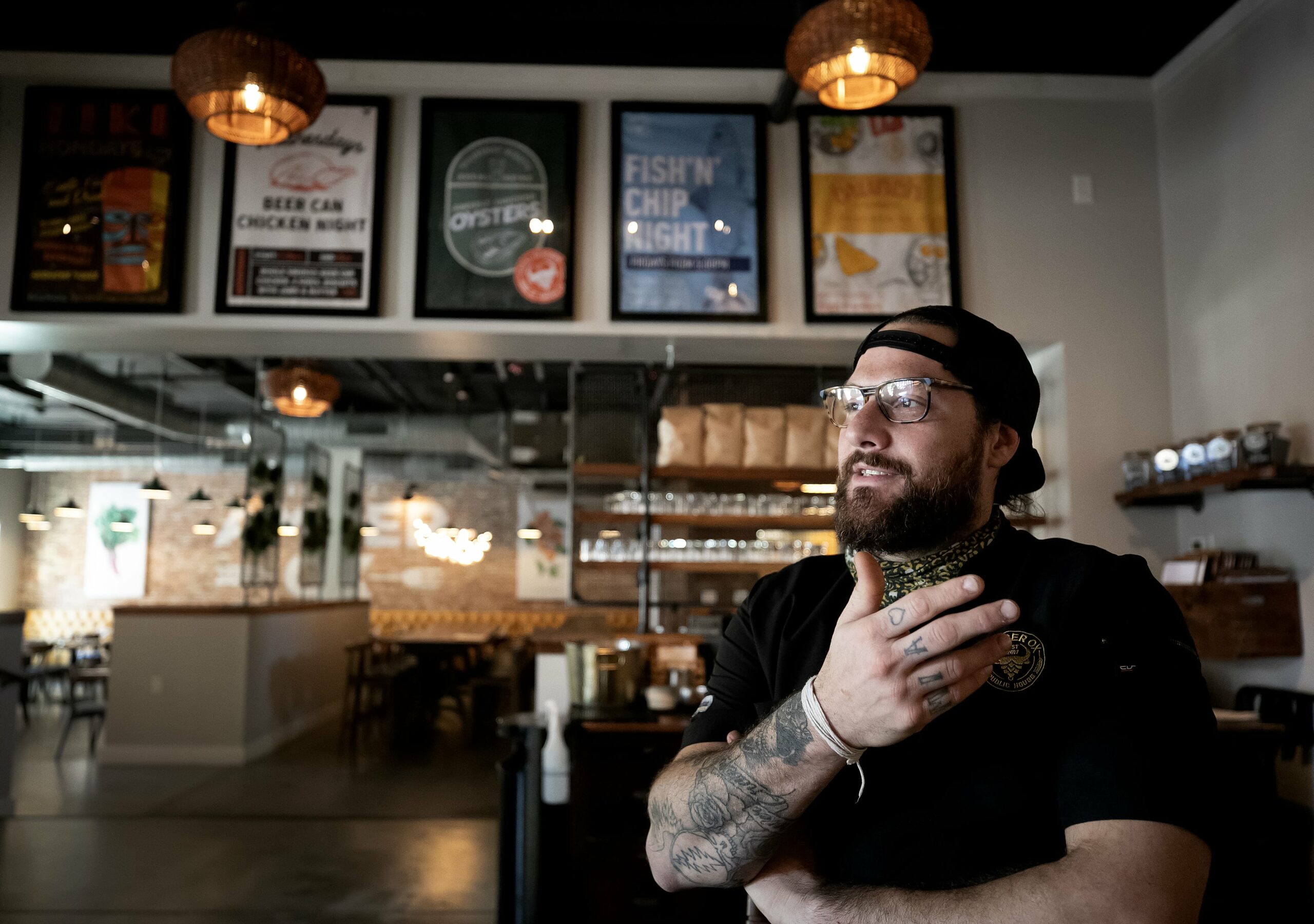 All proceeds from the dinner go toward a Habitat home, currently one of four under construction in Charles City County expected to be complete this fall. All of the homes will be sold to families through Habitat's first-time Homebuyer Program. Dinner for 150 people will be served family-style in the pasture along with signature cocktails and refreshments. Tickets for the evening that begins at 6 p.m., can be reserved at homegrown.love.
"Being part of this fundraiser, having the potential to raise nearly $40,000 for an incredible organization, a great purpose and a great cause, is awesome for our team," Cook said.
The movement toward clean eating continues to grow traction nationally, but for Cook, it's always been a way of life.
"When I grew up, we rarely went grocery shopping," he said. "All our beef came from the cattle we raised. Same things with eggs and produce. We are a society that has become overly obsessed with buying the cheapest food possible while spending our money on other extravagant things."