If you're reading this, you probably know a little bit about the work we do at Consociate Media. We'd also like you to know a little about each one of us, too. Here's another in a series on our team with a look at Michael Kimball, who would like to offer you a glass of wine as long as it's from Virginia.
Christmas is always coming when you're Michael Kimball and not just because you have puppies named Dasher, Dancer and Prancer.
Consociate Media's most creative partner finds Christmas morning cheer in a cup of coffee — homemade from his French press preferably or in craft beer, Shortcake from Alewerks, to name just one.
Pouring Virginia wine into a goblet for another, he's Santa Claus. Sharing what's special to him tops the joy of drinking his own glass.
Nothing is ever ordinary for Michael — the beer has a story, the wine has a heritage, heck even the leftover pizza he brought to work for lunch was made from scratch and cooked in the Lexus of pizza ovens, his outdoor lime green Gozney Roccbox.
"I don't take a lot for granted," Michael says. "I think that there's sort of a deeper meaning in almost everything. To me nothing is just what it is. Food isn't just food. It's relationships. It's history. It's culture."
People, passion and place matter to Michael in that order.
Michael would rather be among people than along, one of the reasons team sports dominated his childhood in Vermont. The ice rink was his first hangout; in fact, "Hockey was my life," he says. "I could skate better than I could walk."
At Rice Memorial High School, he starred in football and baseball. The Green Knights were winless his freshman season, but as a senior in 2004, the lefty quarterback surpassed 1,000 passing yards in leading the school to an undefeated seasoning ending in the Division III State Championship. Yet Michael was best at baseball, just one win shy of the all-time victories record when he graduated.
"I didn't realize it at the time, but sports were my anchor," says Michael, inducted into the high school's athletic Hall of Fame in 2019.
Small colleges expressed interest in Michael for his pitching arm. He itched for a different experience in a larger area. While Chittenden County, Vermont has become more cosmopolitan today, back then it was anything but.
"We had to drive two hours to get to a Wendy's," he recalls.
Tuning into the reality television show "The Apprentice" one night informed his college decision. A student from Rutgers University won; going to school that close to New York City seemed pretty cool to a kid from Vermont. An immediate tug of homesickness nearly ended the adventure before it really began. Michael was so overwhelmed that first semester that his dad brokered a deal with him — he'd quit smoking if Michael would give Rutgers a chance.
Miles apart, "We did it together," Michael says, crediting a fellow freshman named Jessica Dunn for her part, too. She was a Long Islander who had no problem making friends and a party invite turned into the first date with the woman he would marry six years later.
With Jessica by his side, Michael dived into everything urban college life offered. "I made friends from diverse backgrounds and tasted food I had never heard of before," he says. "The accents and hair styles and so many cultures converging, it was just so foreign to me. I loved it."
An internship in Manhattan allowed Michael to explore a longtime fascination with brands and logos. His collection of hockey jerseys back home had never been as much about the actual teams. He was drawn to the saber-tooth Tiger logo that defines the Nashville Predators and the howling coyote of the Phoenix Coyotes.
"It wasn't so much about logos from a dollar-and-cents perspective; it was more about the impact the logos have and the color choices and how they fit into ad campaigns," he says.
Fittingly, Michael went to work at Starbucks – the brand that transformed not only how America drinks coffee but how we think about it, too. Michael — who often totes a Yeti with iced Starbucks today — advanced quickly from barista to shift supervisor to assistant manager. As a senior at Rutgers, he even managed a store.
The paychecks were nice. The coffee appealed to him more because — no surprise — as it wasn't just coffee. "It was about where it came from, the places and people that made it," he says. Michael became a coffee master, a wearer of the black apron at Starbucks, able to dissect brew and roast methods and explain processes to curious customers.
Shortly after college graduation, he and Jessica relocated to the Washington, D.C., metro area. He was still with Starbucks, but the more corporate side of the business wasn't feeding his creative juices.
"I had a really good situation going at Starbucks and was making good money, but I wasn't happy," he says.
Michael quit to bartend and serve at the iconic Majestic Cafe, where renowned sommelier and bartender Todd Thrasher introduced him to jiggers and strainers and the fine art of making a cocktail. Meanwhile, Jessica worked at a nearby fine dining establishment that Michael patronized frequently.
"I knew coffee, but I did not know much about alcohol," he says. "I fell in love with food and craft cocktails. I worked at a place that used no pre-mixers for drinks; it was very craft, very artisanal.  I got very passionate, maybe obsessed, about craft cocktails."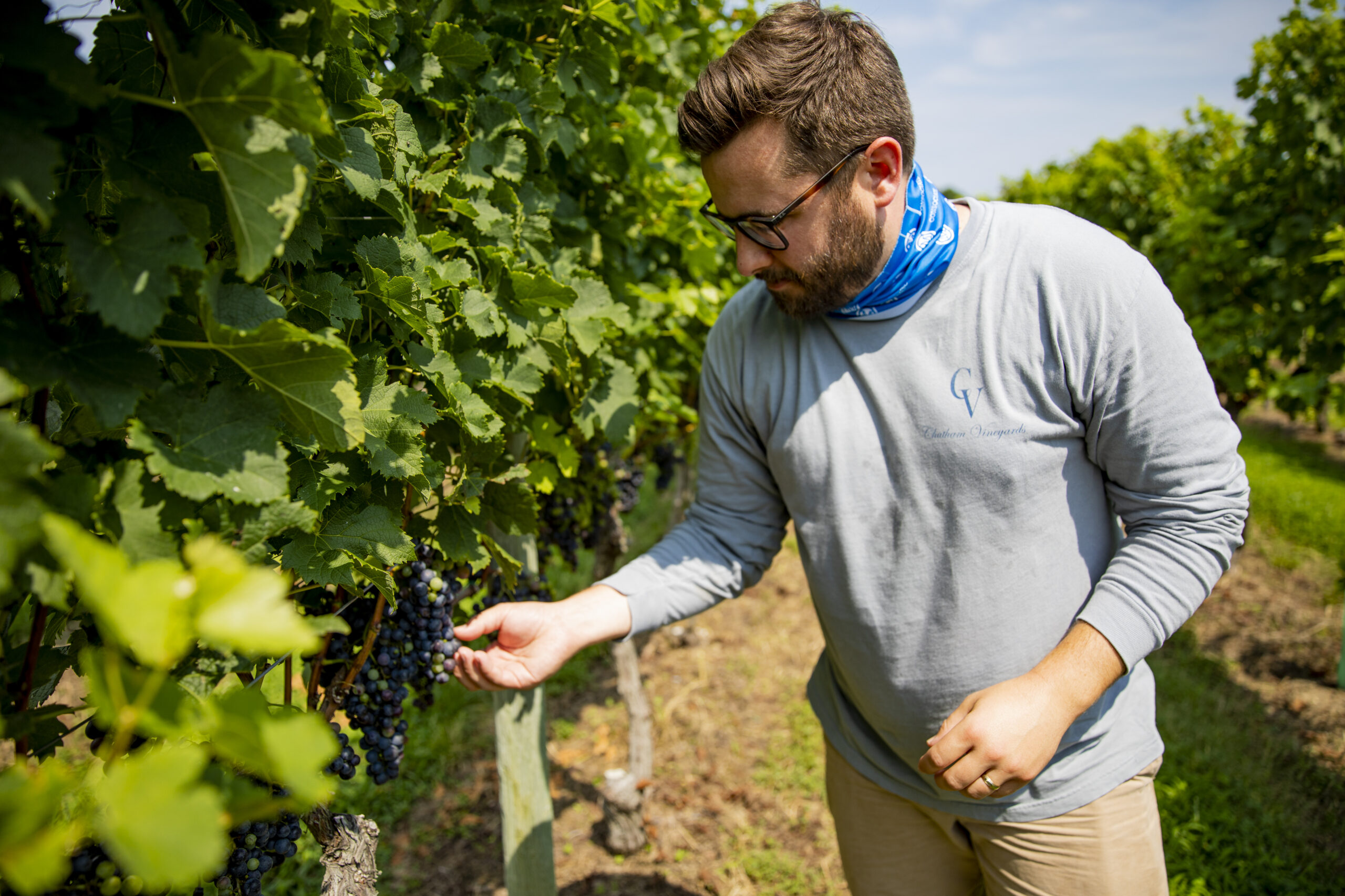 Then Michael discovered Virginia wine — the beginning of what's shaping up to be a lifelong love affair.
"At a time in my life when I was probably the most lost, I found my path," he says. "Even though I didn't aspire to do the restaurant thing forever, I loved the scene. The smells, the clinking of the plates, the chef language, people coming in all dressed up."
Learning about a new food or drink was always as much fun as trying it, so it was natural for Michael to Google all of the Virginia wines he would hear about while working at the restaurant. The Chardonnay from nearby Paradise Springs Winery had recently won the Virginia Governor's Cup, incentive enough for Michael to plan an afternoon visit. That experience reinforced his affection for Virginia wine.
He was drawn to its layered history, a heritage dating back to the 1600s, and the flourishing industry in the Commonwealth, rich with growing pains and storylines while fighting a disrespect from tasters and buyers, dismissive of it often before sampling it.
"That started what has become a crusade, to share with others what I've experienced, which is an incredible wine region and incredible people," he says.
By then, Michael and Jessica had grown tired of city living and a weekend to see Jessica's parents, who had recently relocated to Williamsburg, brought unexpected clarity. On a cold, February day, the couple headed to the Williamsburg Winery, the largest winery in the state at the time, its grounds reminiscent of a European village, set among hundreds of acres of woods known as Wessex Hundred.
"There wasn't a soul in the place minus the people who were working," Michael says. He and Jessica were the lone pair on a tour that included the cellars followed by a cheese plate lunch at the Gabriel Archer Tavern.
I need to work here, Michael thought, only they weren't hiring. He emailed a resume anyway.
Kenny Bumbaco, Vice President of Wine Sales, agreed to a meeting, and within five minutes of meeting Michael, he was offered a tasting room associate position. It was an $8.50 an hour job, but for Michael, it was an early Christmas present. He was at the winery all day every day, arriving early in the morning to clean bathrooms. He worked weddings. He picked grapes in the vineyard when an extra hand was needed.
"There is value in seeing a place from the ground up and seeing it through a customer's eyes," he says. "I did tours and tastings and learned everything I could."
Michael put his hand up to manage festivals for the winery, where he was given the freedom to elevate the winery's brand. In setting up the winery's booth at events, he was attentive to details — replacing signage, investing in tablecloths, attuned to every aspect related to the presentation of the wine.
Sales increased. He suggested a Williamsburg Winery wine club. It ballooned from a handful to a 100 to today, 1,500 members. Its growth eventually altered the production schedule.
Michael was promoted to marketing director, where he championed the winery's brand even more through what became the Wessex Hundred Wine Series and the Virginia Appellation Series — both developed in response to feedback he received in the tasting room. Patrons showed repeated interest in knowing the origin of the grapes.
He pushed for the winery to enter the 2014 Governor's Cup.
The winery didn't just bring home a Gold Medal.
The 2010 Adagio — a bold selection with loads of jammy fruit and a hint of spice — earned the Governor's Cup, the top award in the state for blended red wine.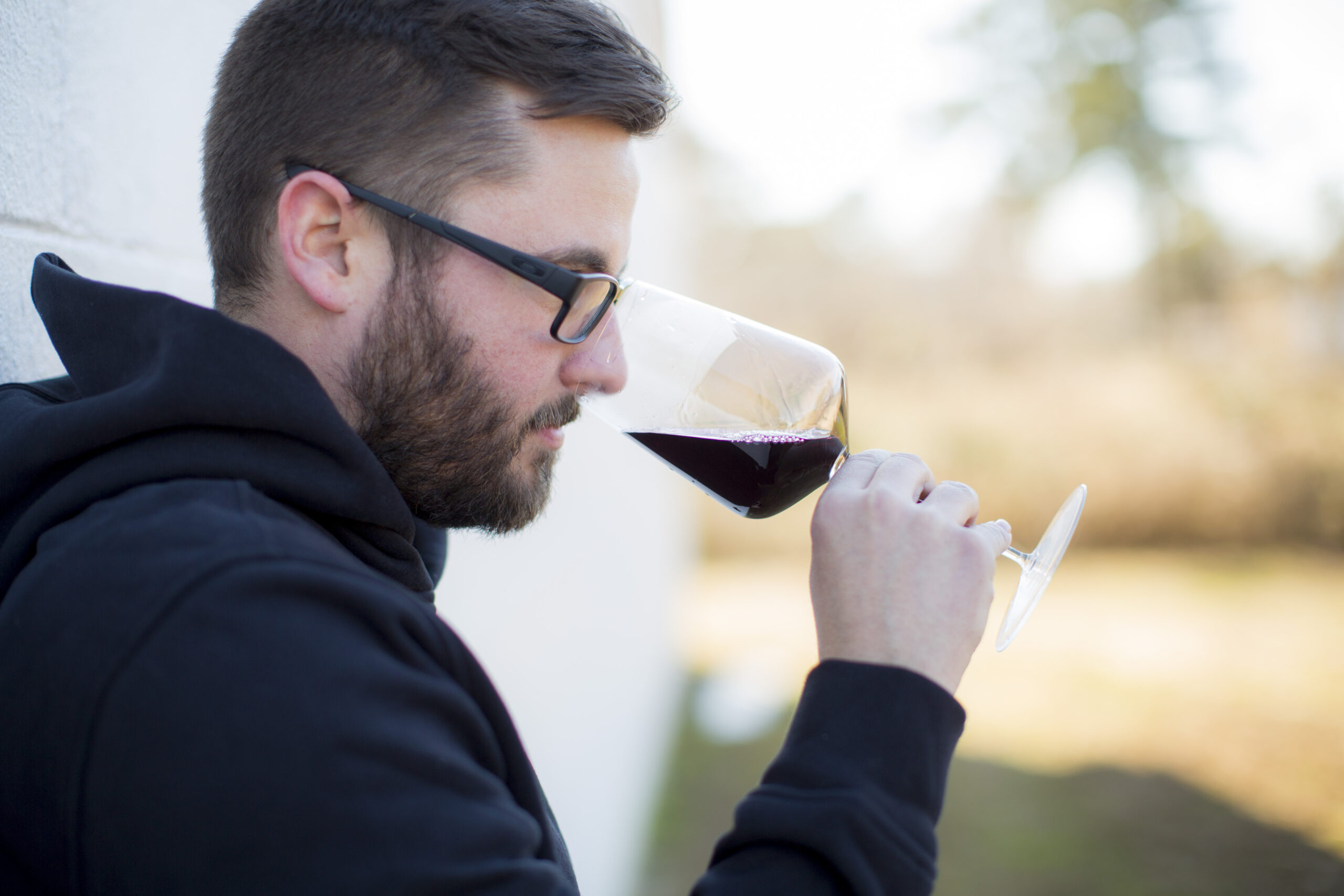 "That changed things for me," Michael says.
More opportunities in Virginia wine began to emerge for Michael, he was elected to the Executive Committee of the Virginia Wineries Association, eventually becoming its Vice President.
Michael also initiated a five-year partnership with local radio station 94.9 The Point that allowed him to promote wine in new and exciting ways on the weekly Wine Wednesdays show hosted by Mike Powers and Woo Woo.
That opened up another avenue,  a successful concert series that brought Grammy Award-winning winners  Jason Mraz, LeAnn Rimes and A Great Big World along with internationally touring artists including Grace Potter, Andy Grammer, Ingrid Michaelson and others to the Williamsburg Winery.
The expertise that Michael developed at the Williamsburg Winery made him an attractive candidate for Consociate Media, which serves multiple food and beverage clients in Virginia. Michael came aboard in 2019 and was made the fifth partner of the media and marketing company that embraces genuine storytelling to promote business in 2020.
"I've been able to realize so many of my dreams at Consociate," he says. The work is up his alley, and he very much enjoys the journey as the block on his desk reminds. But the warm fuzzies he gets inside after the success of a project is the richer reward, and it's similar to the feeling he experienced on the mound as Rice Memorial High School's ace pitcher.
As satisfying as it was to throw a strikeout, a batter grounding out to first was more rewarding.
Team. Connection. Collaboration. Those tenets resonate with Michael then and now.
Michael's personal team has expanded, too. He and Jessica are parents to two boys and a girl, as well as three Boston Terriers.
Being called Daddy every day swells his heart in ways he never imagined. Beyond tasting a new Virginia wine. Beyond his New England Patriots winning another Super Bowl title.
Beyond watching "Home Alone" for the umpteenth time.
"Even though I now wear my heart outside my body, my purpose for being was never clearer," Michael says. "The joy that I have in being a dad, as long as I still have that, as long as they are able to be healthy and I can be with them, inspires me to go harder and go further than ever before."
It's like waking up to Christmas every morning.