The artistry that goes into winemaking isn't lost on us at Consociate Media.
We aren't grape growers here, but we are artists of a different kind, ones who bring stories to life through words, videography, social media, photography and design, all infused by the creative process that we embrace as a team.
One of our most recent projects, creating a special label for Stinson Vineyards, allowed us to showcase our experience in specialty food and beverage. While all of us at Consociate have worked in the wine and craft beer industry in the Commonwealth, Partner Michael Kimball and Creative Director Jeff Phillips combine for decades of experience in this area, making them ideal partners to tackle the Stinson request.
Michael worked his way up from tasting room associate at the Williamsburg Winery to its marketing director, the foundation for his later becoming Vice President of the Virginia Wineries Association. Finding innovative and exciting ways to promote wine statewide and nationally isn't just what he does. It's who he is professionally.
Jeff, a fine arts major at Amherst College, spent five years as marketing director at Alewerks. He's designed 100 or more labels, though never one for wine until now.
The family-run boutique winery in Crozet approached us about designing a label outside of its normal service line yet still consistent with brand standards. The wine, Blanc de Mourvèdre, is a special release that pays homage to Farmer's Rest, the historic house and property restored by Rhea Hale, who had the distinction of being the first and possibly only Virginia grape grower to exclusively farm the challenging Mourvèdre grape.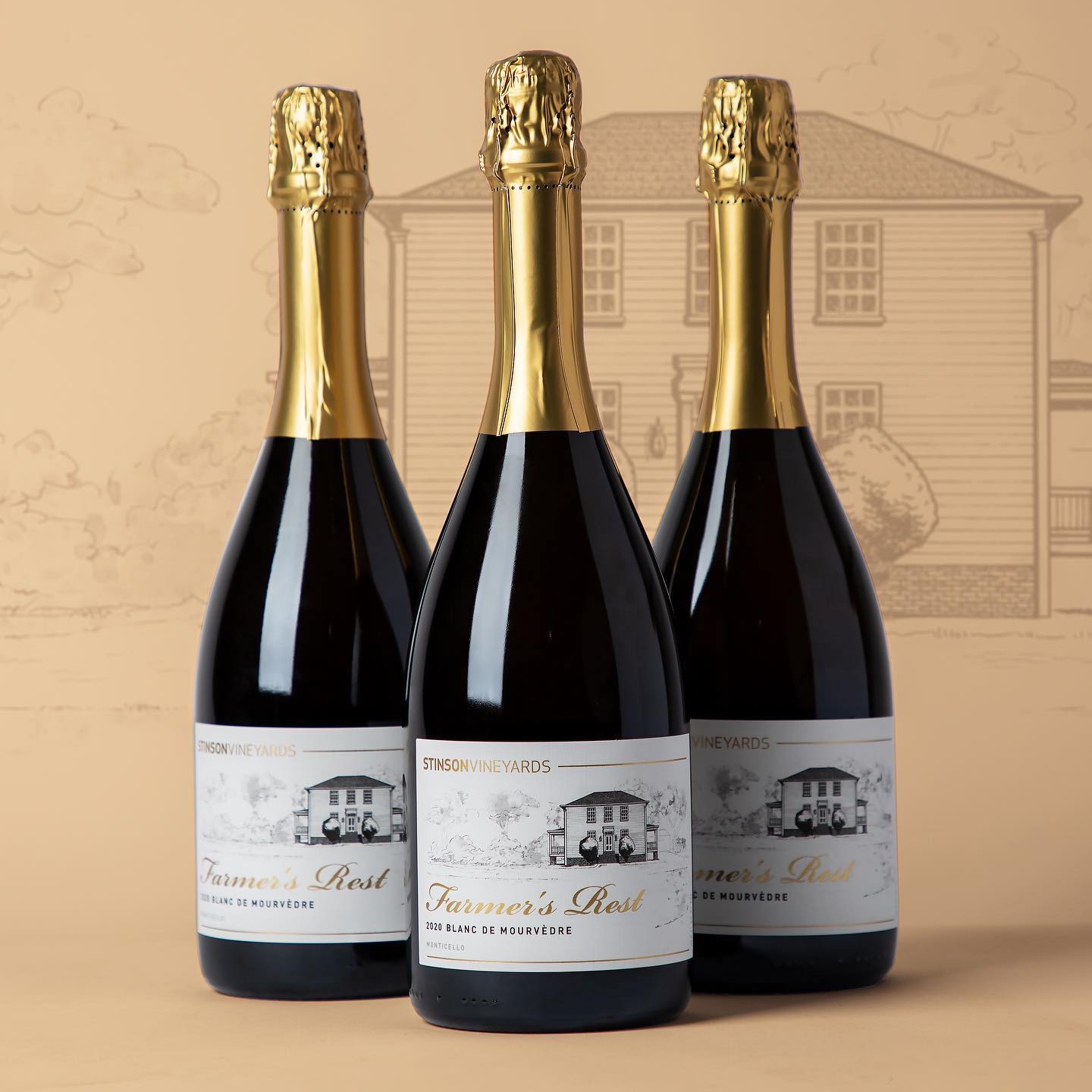 They wanted a label prominently featuring Farmer's Rest for a wine that celebrates the life, vision and perseverance of Hale, who passed at the age of 49 in 2020. Their creative direction and willingness to collaborate inspired Michael and Jeff.
Jeff immediately felt what he calls "a pen and ink vibe." Not all graphic designers are actual artists, but as an art major, Jeff was taught drawing, painting and sculpture, skills that enabled him to create an authentic drawing showcasing the nuances of the estate. He used Illustrator to refine the geometric proportions of the windows, siding and roofing. He relied on Photoshop to bump up some of the line thickness and added an ink wash texture to the background that enhanced the focus being on the actual house.
Jeff leaned on one particular detailed image to inform his design of the ornamentation around the front door, one of the saliant features of the house. After putting the drawing onto a label, Michael presented three different concepts to Stinson. As the label wraps around the bottle, Jeff extended the tree line for a better aesthetic. Stinson approved the image that today graces every bottle of Farmer's Rest.
"I still take pride in picking up a pencil and being able to create something," Jeff says. "I've long felt my background and training as an art major as opposed to a graphic design major is a benefit."
For Michael, making the connection between product and story, in this case a wine that is beautiful both inside and out, brings immense satisfaction. "I love being on this journey of partnering with the people in the craft beverage industry and bringing their visions to life," he said.
Stinson Blanc de Mourvèdre pays homage to a cherished friend. At Consociate, we feel privileged to be able to share such a special story.