Ideas. Create. Impact.
At Consociate Media, we embrace those pillars and combining all of them to bring a concept to life.
We'd worked to achieve just that with a special Veterans Day campaign created in partnership with Alewerks this year.
The Williamsburg brewing company wanted a way to creatively introduce Olive Drab, an easy-drinking British Ale with a balanced hop and malt profile. The special release was created to celebrate and honor America's veterans for their patriotism, love of country and willingness to serve and sacrifice for the common good.
Like many small businesses in Hampton Roads, we're passionate about supporting the veteran population that is so prevalent here. On a personal note, Consociate founder and managing partner Stephanie Heinatz is the daughter of Joseph William Shabbott, a retired Army sergeant major. Stephanie was previously an embedded newspaper reporter in Iraq.
Our lead staff photographer, Rob Ostermaier, is also an Air Force brat and Army veteran, deployed to Turkey and Iraq during Desert Storm.
Those of you familiar with the Alewerks brand know that the company is as committed to contributing positively to its community as it is to making quality beer consistently.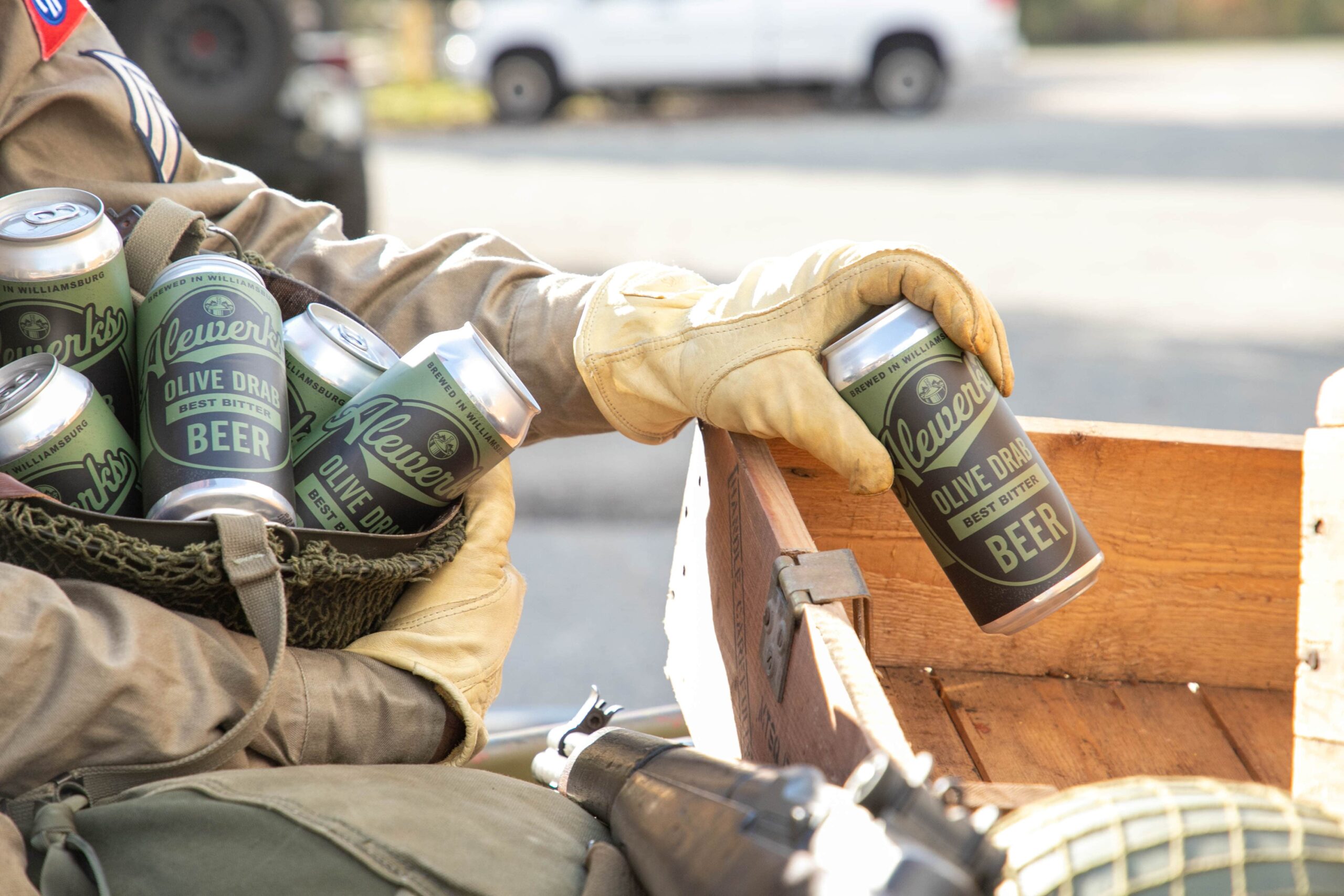 Olive Drab is no exception on either front. Golding hops contribute a balanced bitterness as well as flavors and aromas of citrus, grapefruit and some woody-herbal aromatics. It pays homage to a patriotic time during World War II when brewers took pride in supplying "cold comfort" to soldiers fighting overseas. Brewers packaged their beer in olive drab cans that would not reflect on the battlefield.
Consociate graphic designer Jeff Phillips created the design for the Olive Drab cans inspired by the vintage packaging of the 1940s. The fonts and distressed effect mimic the surface of a military vehicle, reminiscent of a time when a shiny can of beer would put our troops in peril.
The olive drab and black color scheme echo and update the historical design.
The week before Veterans Day, Alewerks unveiled Olive Drab and encouraged patrons to purchase an Alewerks pint for a veteran and write an anonymous note of thanks, messages posted on the wall of the brewery and L.A.B. Taproom. On Veterans Day, active-duty service members and veterans were invited to visit both locations to enjoy the beer and the words of support.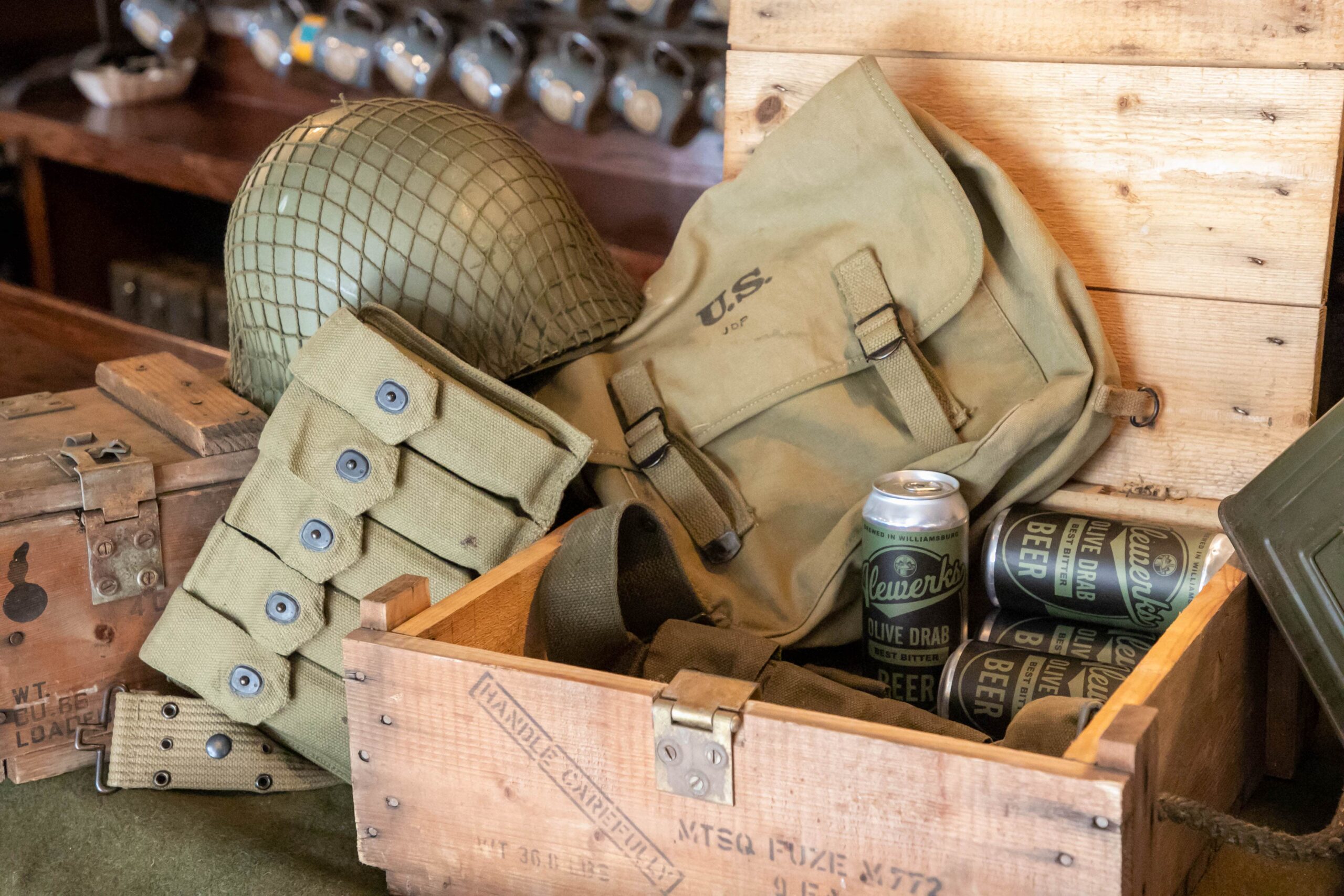 Alewerks also celebrated the new release by inviting the TG-Company 3/505 Parachute Infantry Regiments Reenactment Group to be onsite to educate patrons about World War II history and the role beer played in it.
What started with a Consociate team brainstorm resonated throughout our community. It seemed as if everyone visiting Alewerks wanted to Buy a Beer for a Vet.
"This project, in particular, speaks to the spirit of Consociate Media and what we offer our clients," said Partner Michael Kimball. "Ideas. Create. Impact. This is a great example of the three pillars in our brand working in harmony. It's also reminder of the power of collaboration. The client brought up a fantastic idea, and we were able to take the concept and run with it by finding a way for people to engage with the beer. It's more than just beer. It's about the connection it creates."
Olive Drab was made available in 16-ounce, 4-packs and on draft exclusively at Alewerks taprooms.
Cheers to good ideas. Cheers to innovation and collaboration, and to our veterans, of course.
Ideas. Create. Impact.